If you're visiting Toronto with a plan in mind to take some Architecture or Cityscape type shots, there's certainly no shortage of spots to keep you occupied. Given that we're located in the Toronto area, I've done my fair share of exploration of various parts of the city and taken lots of photos along the way. This post will therefore cover some of the my favourite architecture locations to photograph in Toronto exterior and hopefully help you get some killer shots during your visit.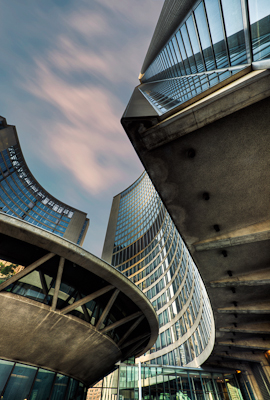 1. Toronto City Hall (100 Queen St West)
Photo (left): Michael Woloszynowicz / Vibrant Shot
An absolute must during your time in Toronto is the new Toronto City Hall building. Although it has been shot quite extensively (yours truly included), the architecture of the building is so fascinating that you can always find unique angles and interpretations. Some of my favourite shots to this day have been taken at this location and it's one that I visit almost every time I'm in the downtown area. A wide angle or ultra-wide angle lens is a must and expect to bracket your exposures up to 5 stops as light varies drastically across the façade. Because of the light variance during dawn and dusk, a tripod is highly recommended and try to get as low as possible for dramatic angles. The adjacent Nathan Philips square offers good parking for a reasonable rate and often has interesting events being held. Such events can make for interesting subjects for street shooters as well. The elevated position of deck housing the building also offers up some nice views of the nearby towers and streets which look good during blue hour.
2. The Royal Ontario Museum (100 Queens Park)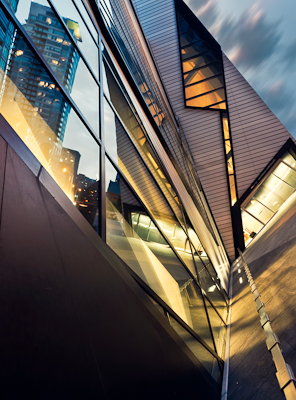 Photo (right): Michael Woloszynowicz / Vibrant Shot
Another must visit location, although one that will challenge your skills and creativity is the Royal Ontario Museum (ROM) and its wacky Michael Lee-Chin crystal. The design of the ROM's exterior is often fiercely debated by lovers and haters alike but it's uniqueness is undeniable. For the best quality shots be sure to visit during golden hour or blue hour as the lighting around the structure helps bring it to life. Do away with conventional horizontal or vertical orientations and tip your camera from side to side to find unique interpretations of the buildings angles. Some nice light trails can also be captured on the busy surrounding streets and incorporated into your shots. Be sure to cross into all four corners of the nearby Bloor St and Avenue Rd intersection as each corner offers a unique perspective on the structure.
3. The Art Gallery of Ontario (317 Dundas St West)
Photo (below): Michael Woloszynowicz / Vibrant Shot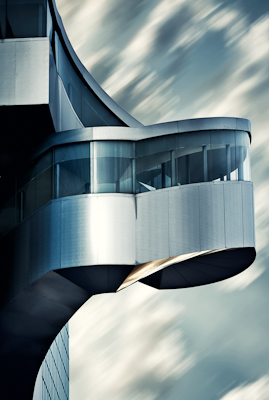 Much like the ROM, the AGO is a challenging albeit rewarding place to shoot. To get the most interesting shots, make your way to the South side of the building in Grange Park which houses the marvellous Frank Gehry designed titanium and glass staircase seen here. Rather than try to capture the building in its entirety, come equipped with a telephoto lens (such as a 70-200mm) and look for interesting fragments and angles. The location is best tackled during a day with dramatic clouds or at golden hour and can end up looking quite bland during the harsh midday light.
4. Ontario College of Art and Design (100 McCaul St)
Photo (below): Michael Woloszynowicz / Vibrant Shot
Quite possibly one of the toughest structures on this list to photograph, the OCAD building is as funky and colorful as they come. The primary challenge in shooting it stems from the fact that lines converge from all different angles and minimizing distortions in the shapes and patterns is nearly impossible. It's best to shoot the structure at an angle to avoid trying to achieve perfectly horizontal or vertical lines and look for leading lines through the supporting pillars.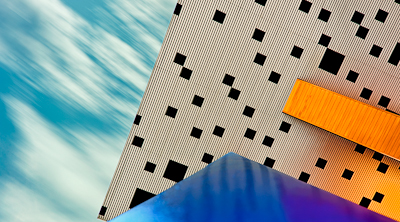 Be sure to go in with a vision of what can be achieved in post processing and compose accordingly. Once again, it's best to avoid capturing the entire building and rather concentrating on abstract and thought provoking fragments. A mid-range zoom will be best suited for the job and forget trying to compose with a tripod here. Go handheld and capture as many different angles as you can and be prepared to throw most of your frames away.
5. Metro Hall (205 Wellington St)
Photo (below): Michael Woloszynowicz / Vibrant Shot
Although it doesn't look like much when you first approach it, the two Postmodern government service buildings that comprise Toronto's Metro Hall can lead to some interesting photos if you take time with your composition.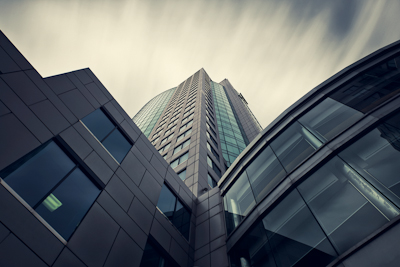 The large pillars and metallic and glass façade pick up golden hour and blue hour colors beautifully and can be made more dramatic through the use of a long exposure in the sky (as I've done here). Begin your exploration on the North East side of the building in Pecaut Square and bring a wide angle lens such as a 16-35mm (on full frame) along with ND filters and a polarizer. The building looks great in both color and black and white so experiment with both to find what works best for you.
6. YWCA Building (87 Elm St)
Photo (below): Michael Woloszynowicz / Vibrant Shot
What initially started out as a planned condominium development soon fell through and proposals were made for a building that will provide housing for low income woman.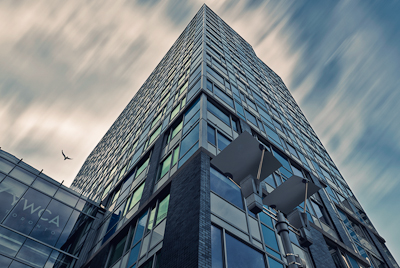 Despite it's humble uses, the LEED certified building was designed by two highly respected Toronto based Architecture firms and is a contemporary patchwork of colors and shapes. Each face of the building has a unique look and color scheme to it so it definitely warrants a walk around. The West side houses an interesting sitting area packed with unique lamps and shapes that add further depth and character to your shots. Given that the building houses battered women, security is quite tight so either work fast or pop into one of the security desks and ask for permission.
7. One University Avenue Building
Photo (below): Michael Woloszynowicz / Vibrant Shot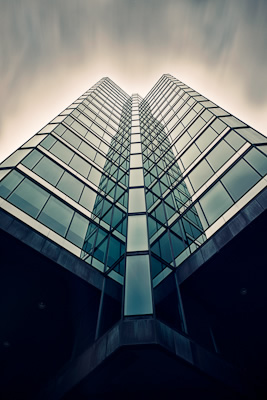 In the heart of the financial district, the building at 1 University Ave with its multi-angle, wave like glass façade is a haven for reflection seekers. The South East side of the building offers the most interesting angles and opportunities for reflections and is best captured one or two hours before sunset. The most engaging angles are found when shooting upwards and because of the numerous overhangs and angles, bracketing will greatly help in achieving a uniform exposure. As with the shot seen here, a long exposure or more dramatic clouds, as well as some more daring post processing are necessary for achieving a really interesting image.
8. Absolute Towers (50 Absolute Ave, Mississauga)
Photo (below): Roland Shainidze
The Absolute Towers, also known as the Marilyn Monroe towers thanks to their curvaceous, hourglass like shape, are a little ways from downtown Toronto in the city of Mississauga. With the towers stretching 50 and 56 stories tall, getting up close to the buildings and shooting upwards is not the best strategy, although I have seen a few decent shot from this angle. The most interesting shots are taken from farther away and either capture the entire towers with the addition of some dramatic clouds, or those that zoom in tight and capture a fragment of the buildings.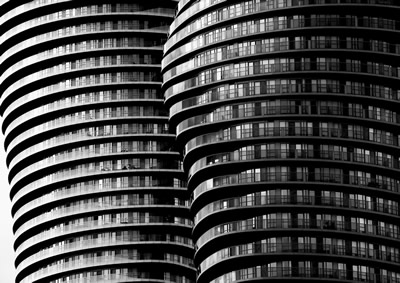 An example of this is the great shot seen here from my friend and Toronto based shooter Roland Shainidze. While it's usually best to find yourself an elevated vantage point to minimize distortions, the need is somewhat mitigated by the curvy nature of the buildings, so it becomes less of an issue here than when shooting more linear structures. The buildings themselves are quite far apart so look for ways to overlap the two buildings or bring them closer together and show just a small gap between them to play off their curvature and create the impression that they're interlocked. As exemplified here, the buildings look great in a contrasty B&W treatment which helps to highlight their lines and shapes.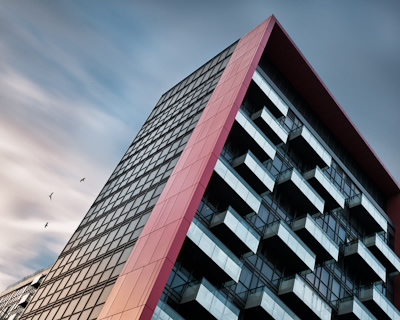 9. Tridel Reve Condominiums (560 Front St.)
Photo (left): Michael Woloszynowicz / Vibrant Shot
Unlike the Absolute Towers condominiums above, thes high end Tridel Reve condominium is all about sharp lines, angles and unique colors. Just about any way you frame this building will make for an interesting composition and I recommend experimenting by tilting your camera in different ways to further play off the angled nature of the structure. Think about using heavy contrast in your post processing to help accentuate the lines and glass balconies even more. To get the most from the building and achieve nicely saturated colors be sure to shoot during golden hour as the South West face is the most interesting photographically and picks up light really nicely. The building is equally well suited for shooting fragments with a telephoto lens as well as capturing it in its entirety with a wide angle so bring both lenses for added variety.
10. Concord CityPlace (15 Iceboat Terrace)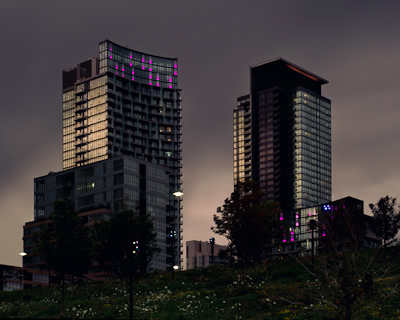 Photo (right): Michael Woloszynowicz / Vibrant Shot
Although only about 80% completed, with over 15 towers, Concord CityPlace is one of the largest residential developments ever created in Toronto. While the buildings themselves aren't the most architecturally interesting, the area as a whole has a great deal going for it. Nearly each building can be captured from an elevated position at Canoe Landing Park and each has a different facade. The real interest however is in the way the buildings are lit. The Luna towers seen here are especially cool with funky vertical bars of purple lights and canopy underglows capping off the tops of the buildings. The lights don't turn on until the sun goes down so blue hour is definitely the best time to capture them while still retaining some details in the buildings themselves. Given the distance of the park from most of the towers, you'll want to bring a middle of the range zoom of around 50-200mm.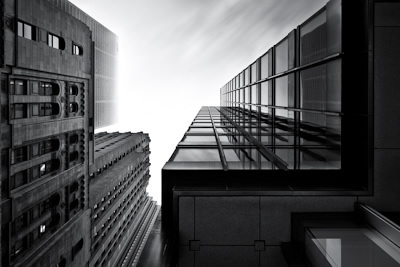 11. Commerce Court (25 King Street West)
Photo (left): Michael Woloszynowicz / Vibrant Shot
A collection of 4 buildings, all with different architectural styles ranging from Art Deco to early Modernism, Commerce Court offers great opportunities for juxtaposing various textures against one another for some dramatic and intriguing shots. Right next to the area is the thin sliver of a building known as 1 King West which can serve as the cherry on top of an already impressive array of structures. Some areas around the towers are quite tight so shooting upwards often becomes the only choice, with wide angle and ultra wide angle lenses best suited for the job. Because of the amount of shade offered by the tight cluster of buildings, the area can be photographed at nearly all times of the day. Due to the high contrast, exposure bracketing is once again recommended in order to give you more options in post production. Begin at the 1 King West tower and make your way West towards the CIBC building to get a good feel for the area.
With the exception of Absolute Towers, all these locations are within walking distance of one another and can be captured over a three day visit. I hope you find this guide useful and stay tuned for a future post on interesting interior locations.